About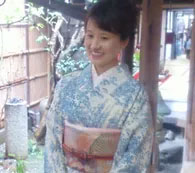 Ayumi Nakade
CEO | Overseas liaison
I am thrilled to be meeting with you and sharing inspiring moments together.
Thank you for walking into my life.
Ayumi was born, raised and educated in Kyoto. Taught by her father and grandfather, both great artists in Kyoto painting. After graduating from Osaka University and gaining experiences at global companies, she became independent. While continuing her art activities, she performed her professional career engaged in business liaison roles, connecting people and businesses inside and outside Japan with her keen art sense and language skills.
World is full of diversity. Cherish wishes to remain committed to creating boundless opportunities for arts and people.